Discover the 5 do's and don'ts when selecting a CMO! The importance of selecting the right CMO/CDMO partnership is critical, as the benefits go beyond significant cost reduction. There is also the potential to improve and develop more strategies for pharmaceutical companies, but only if a mutually collaborative, open and trusting relationship is built. View the article here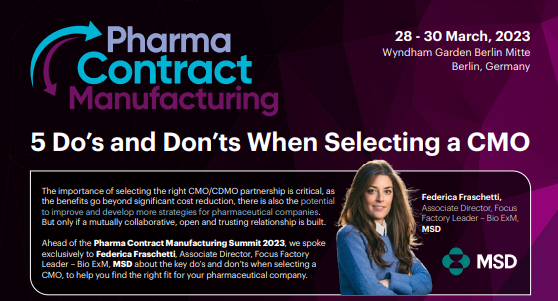 Ahead of the Pharma Contract Manufacturing Summit 2023, we spoke exclusively to Federica Fraschetti, Associate Director, Focus Factory Leader – Bio ExM, MSD about the key tips for success and key areas of caution when selecting a CMO, to help you find the right fit for your pharmaceutical company. View the article here.
Pharma Contract Manufacturing Forum offers a unique opportunity to network and openly discuss highly topical challenges such as enabling supply chain robustness, improving lead times and minimising costs in the face of rising energy and raw material prices, with a range of pharma and biotech companies. View the agenda here or book online here.